FAQ (Frequently Asked Questions) about Hair Packaging
Click on any one of the links below to jump down to the relevant section.  Or, feel free to read through the entire page.
I'm just entering the hair business – can you help?
What types of hair packaging boxes are available?
What are plastic enclosures?
Why are there lower prices advertised on the internet?
How is pricing for custom hair packaging determined?
What types of questions are asked before starting design?
What affects the price of printing?
I'm just entering the hair business – can you help?
We love working with entrepreneurs starting businesses.  We combine our experience in the hair industry with our founders small business knowledge.  When you contact us, you will probably talk to Dino who started his first online business in 1994, when he was 16.  At 19, he sold the most popular subscription based "site" in Hong Kong.  Over the years he has helped many friends and clients with brainstorming and fine tuning ideas, planing for businesses, creating companies, branding, marketing, and much more.
A great way to enter the hair industry is with sheer fabric bags.  They are sold in quantities of 100 bags and are available in 4 sizes . Our clients have placed hair extensions up to 26 inches long in one 6 ½ x 15 inch bag.   Your maximum length may vary depending on texture of hair and bundle weight.  Since your customers will usually buy 2-4 bundles at a time you can easily put 2-4 of our sheer fabric bags into boxes which are freely available from shippers like the postal service. The fabric bags also look great in salons or stores, and add that special touch to personal deliveries.  To add your own branding and contact information, consider our hang tags which easily fit on the sheer fabric bags.  Another very economical solution for those just entering the hair industry is header cards which can be used with the existing plastic poly bags your hair may be delivered to you in.
What types of hair packaging boxes are available?
There are several types of boxes available for packaging for hair extensions. An elegant and well constructed box can make a big difference in your clients perception of luxury and quality.  Box styles vary greatly and should be selected based on how you plan on selling your hair and your budget.
Some boxes are designed for online stores where shipping has to be taken into consideration.  Other boxes are strictly for salons or retail stores and they may spend additional to attract customers at point of sale.
Boxes come in a variety of measurements and multiple hair lengths can fit into the same measurement of box.  For example, a box that is 20 inches long has been used for hair extensions from 12 to 20 inches in length.
Boxes are available in a variety of shapes too.  A rectangular box is probably the most practical for hair extensions.  TIP: If you are primarily shipping your boxes, look at the pros and cons of having flat edges on your box.  It may be harder to ship multiple tubes or pillow boxes when they are placed in a carton.
Boxes can be made from many materials including paper stocks and plastic.  See through plastic windows can be added on paper boxes so customers view the color and texture of the hair.  The window allows the hair to remain protected.
The minimum investment for boxes we create and print starts at US $2,000 for 500 boxes.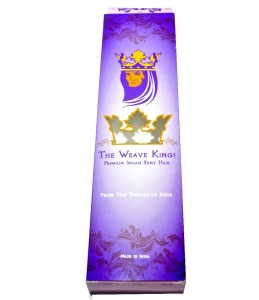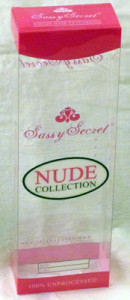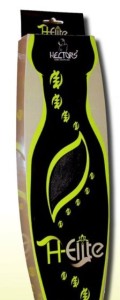 What are plastic enclosures?
Another type of packaging is a plastic enclosure as shown in the image below.

There are three main components to this type of packaging.
The header with hole (grommet for hanging).   As shown on left side of above image, the header is a thin, rectangular,  pink card with hole.  It is usually printed on both sides and sealed inside the plastic enclosure.
The insert is a long printed card which is usually folded where the hair is attached to the insert.  In the above image the insert is the card that is inside plastic envelope.  The insert begins just to the right of the header and extends all the way to the left snap buttons.  Inserts can be designed using any colors scheme and shape.  The insert is printed on both sides.  The top of the front is scored and folded atop where the hair is attached.  This hides the parts used to attach the hair to the insert enhancing the presentation of the packaging.
The third part of the packaging is the actual plastic envelope.  We always recommend snap-buttons on both ends of the plastic enclosures to ensure hair can easily be inserted and removed.
A plastic enclosure can be used for wigs or closures by adjusting measurements.
Many clients print hang tags for their plastic enclosures.  The hang tags allow variables like "style, color, length, texture, etc…" to be filled in for each individual package.
Some clients prefer to use sheer fabric bags when they are entering the hair business as they are more economical.
Why are there lower prices advertised on the internet?
Our main clientele sells beautiful, luxurious, human hair so we create high end designs and deliver quality printed items for our customers  We admit we are not the most economical company but our quality is unmatched.  We started designing for the hair industry in 2007, so our product and industry knowledge is at an advanced level.  Well known names in the hair industry such as Elgin Charles, Angela Simmons and Hector Obeng trusted us to create their packaging.  We invest a lot of time in understanding your unique "mix" including your ideas and research what would appeal to your target market.   Review our portfolio to see some of the items we have designed.
We also print most of our products in the USA.  Some boxes may be produced at our China facility.  Both printing facilities have high standards and produce items that our clients love.  We've heard unfortunate experiences from clients who have tried printing abroad due to cheaper pricing.  For the few that managed the communication, and finally received  printed products, the quality was not up to expectations.  Quality work costs more, and our founder believes that you get what you pay for.
How is pricing for custom hair packaging determined?
There are two main components to pricing for our custom hair packaging – a graphic design fee and the printing costs.
The graphic design fee can be either a fixed fee or, determined using an hourly rate.   The graphic design fees will not have to be paid again if you print the same design.
The printing cost depends on type of material, measurements, coating, finishing, colors, etc… .  The quantity is a major factor, as many items have minimum order quantities.  For our regular items, we give fixed costs for various quantities.
Other charges such as shipping, handling, taxes and duties may need to be factored in.
We aim to be informative and fair, but prices are subject to change and quotes are valid for a limited time.
What types of questions are asked before starting design?
Three sample questions:
What types of items will you be packaging – wigs, hair extensions, wet products, closures or something else? Are your products top of the line, in the middle, or synthetic/generic products?
Who is your target market? Age, sex, geographical location and other demographics allow us to design something that appeals to you and the audience you are trying to market your products to.
How soon would you like the design?
What affects the price of printing?
What quantity of printed items would you like? The quantity makes a big difference in the cost per piece.  Minimum orders exist because the cost to setup the print job at a lower quantity would make an tiny difference in the cost of printing.
TIP: Try and use one measurement of packaging for multiple products so that you can print a larger quantity of the packages. You can always leave space to be filled in for variations like style, color, texture, length, etc…
Where you will be producing the packaging? Our main printing facility is located in Georgia, USA. For boxes, we have a sister production facility in China that can print quality products at lower costs. The China production facility abides by a strict ethical and moral code of conduct. It does not employ child labor and its environmental policies are sound. They have been in business for over a decade and print packaging for many established American brands. As a result of the high quality products produced by the American and Chinese facilities, the quotes we provide are usually more expensive than some of the competitors. Once the design phase is completed, you are given the source files and are able to solicit bids from other printing companies before you reach a decision.
What type of packaging will you be producing? Plastic, paper or a combination? Other materials are available too.
We do not give estimates when printing specifications and an electronic print ready files are not available. Usually an exact quote can only be generated once we have the final design of your artwork.
How soon do you need the packaging? Our American printing facility can complete most printing jobs within 3-15 days plus shipping time.  If you have time and are would prefer a more economical solution, our China facility may be your best printing solution as they are quite competitive when compared to American printing pricing.
Feel free to contact us if you have any questions or think a question should be added to this page.