Hang Tags for Extensions and Wigs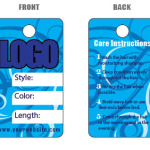 We have designed hundreds of hair hang tag designs using various shapes, sizes, and materials. We've always printed hair tags on paper that is rich, thick and high quality.  Many of our customers sell premium quality human hair.  They have learned that using quality materials for their printed items can create a memorable impression on clients that leads to repeat business.
The hang tags we print are a cost effective way to add a brand to your hair products. Typically hang tags include your logo, contact information, social media links, bar codes, QR codes and hair care instructions.  We can leave spaces to fill in variables such as style, color, texture, length, price, and more.
Hair Hang Tag Sizes and Prices
Prices for 1,000 printed hang tags including custom design:
Small (3.5 x 2 inches) $250
Standard (3 x 4 inches) $360
Square (4 x 4 inches) $430
Long (6 x 2 inches) $330
We can create a design that matches your other designs or create new one.  Complete custom designed logos with graphics/symbols are an additional design fee.
The fine print on these hang tag prices:
Three unique designs and 3 rounds of revisions are included.
At our discretion, we may include a custom text/font logo.
A custom logo design is an additional design charge and is not included in the prices mentioned for hang tags on this page.  If you already have a logo that your designer provided in print or vector file format, we would be happy to include it in your hang tag design.  Print logo files often have higher requirements than small logo files that are used for website or on social media.  Feel free to send your logo to us to review, or ask your logo designer.
Design time has taken as little as 4 days, but it does vary.
Printing will be with the final design you select.  Once confirmed as final and sent to print, we will not be able to change the design.
All hang tags are printed in color on both sides.  We print on rich, thick, 16 point stock.  One hole is drilled into each hang tag and the hole fits the width of the drawstring on the sheer fabric bags we carry.
You can choose between UV (shiny) or matte (dull) coating on your tags. Our default is UV (shiny) coating. If you would like matte (dull) coating, please request it when placing an order.
We print hang tags with rounded corners by default. If you would like regular corners please let us know when placing your order
Printing time usually takes 7‐10 business days.
If you would like to reprint the same graphic design or would like a larger quantity contact us for a custom quote
Shipping and taxes are additional.
Price current as of October 1, 2014. Prices subject to change and additional terms may apply. Not valid on previous orders
Combining sheer fabric bags with hang tags creates an elegant packaging that has your brand on it.  Custom hang tag shapes and sizes can also be designed and printed.
See pictures of hang tags in our recent work.
Review many more images of hang tags in our recent work.